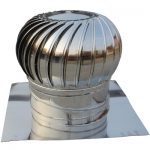 Non Power Exhaust Fan also called Natural Exhaust Fan
Features:
# It can Automatically operate so it will Save labor & save time.
# There will be no operating cost, no electricity consumption, environmental protection & energy-saving.
# It do not require any maintenance & life-long service.
# It is son Light weight, strong and durable construction
strong fray resistance, Weather resistance, self-cleanness, high revolving sensitivity and high air venting efficiency.
# Installation Position: flat roof, pitched roof, concrete roof and contour plate of various industrial plants.
Specification:
Product Name: Roof mounted non power turbo exhaust fan
Blade Material: Stainless Steel
Size: 500mm (22″), 600mm (24″)
Power: No, No Power
Mounting: Roof Fan
Air Volume: 20CFM to 420CFM
Application: Warehouse
Price: 4400tk (22″ & 24″)
| | | | | | | |
| --- | --- | --- | --- | --- | --- | --- |
| Model | Dia of Neck (mm) | Height of Turbine (mm) | Dia of Turbine (mm) | Blade (mm) | Air Speed (m/s) | Air Flow (m3/h) |
| RF-50 | 500 | 500 | 630 | 0.25 | 3.4 | 3360 |
| RF-60 | 600 | 650 | 800 | 0.3 | 3.4 | 3900 |